The Ocean Cruising Club
has appointed
'Members Only' Maxi Taxi Service
Port Officers for Trinidad
We're pleased to announce that Jesse and Sharon Rose James of 'Members Only' Maxi Taxi Services have been appointed Port Officers for Trinidad by the Ocean Cruising Club.
The Ocean Cruising Club is an international organization started in 1954. Full membership is open to people who have completed a port to port ocean passage of not less than a thousand miles in a vessel of not more than 70ft. in overall length.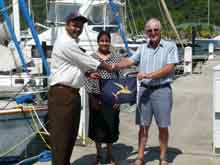 The flag was presented by Ken Brook of Badgers Sett
21st January 2010 at Crews Inn Marina, Trinidad.
We're happy to provide assistance to all members. Visit us at our office or contact us.
We look forward to welcoming you Trinidad!
And our thanks go out to Mike of Aurora B and Ken of Badgers Sett for their recommendations!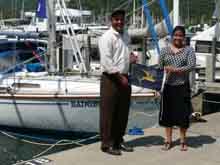 Jesse & Sharon